Unlimited Sparkling Champagne
Exclusive champagne and service
Let your guests enjoy exciting conversations with a glass of champagne in their hands. We create an elegant atmosphere with a simple mobile bar where our skilled bartenders pour bubbles for all. We welcome each guest with a smile and serve with great pleasure.
It's already in the bar. We provide champagne, professional bartenders, crystal clear ice cubes, beautiful glasses, and a complete bar with all tools.
Why book our Champagne bar?
Fantastic experience guaranteed!
Enjoy the best bottles of champagne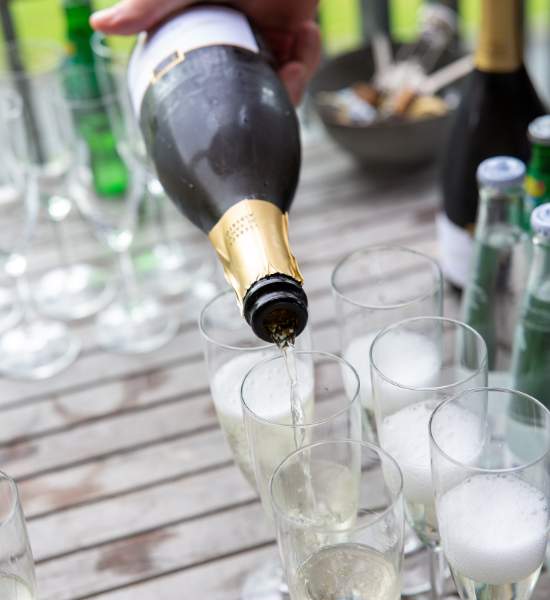 Create a beautiful atmosphere
Do you wish to arrange an event where guests are met with a delightful atmosphere? We make sure that everyone receives a lovely glass of bubbly in their hands.
You don't have to think of the slightest for the bar. Throughout the event, we stand behind the bar ready to pour for those who desire a glass of champagne. Our highest priority is to create an event that oozes pleasant vibes.
We would love to contribute to a fantastic event you and your guests will look back on with big smiles.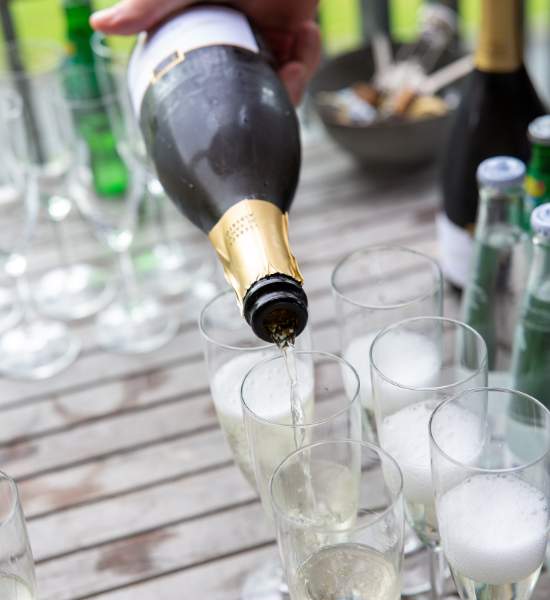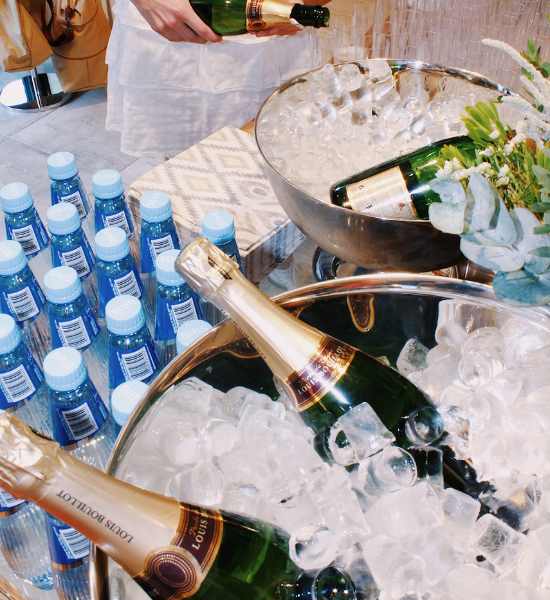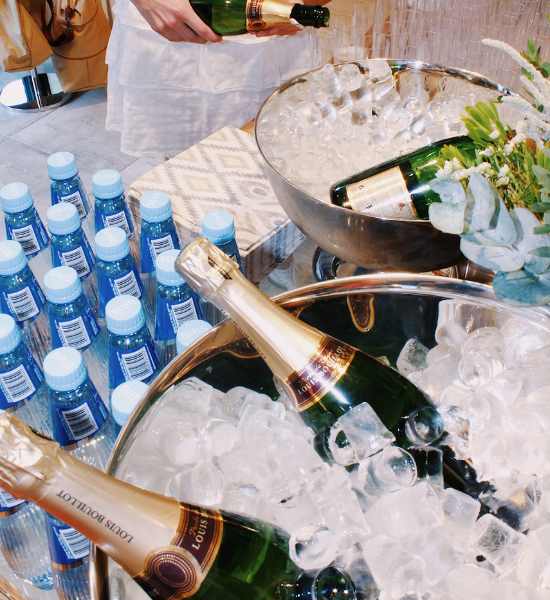 Champagne bar with all-inclusive
We take care of everything for the bar. Therefore, you don't need to shop for, set up, or serve champagne for your guests.
When you book a champagne bar with us, it is all-inclusive:
Champagne ad libitum
Professional bartender
Elegant mobile bar and all equipment
Champagne glasses
Ice cubes
We arrive in good time to get the bar ready. Of course, we also take care of tidying up after ourselves.
An extraordinary experience
Look forward to an amazing service at the bar

Skilled bartenders
Our bartenders are trained to give a friendly service in the bar.
They all have fresh smiles and look forward to doing their best to make your event memorable.
They keep the line to a minimum without any trouble, so you and your guests can enjoy a good night together.
Ambitious bar catering
For us, the most important thing is that everyone can have an event just as expected. Therefore, we always listen to your thoughts and ideas for the best possible experience.
Since 2006, we have been part of excellent gatherings and made sure to have a good time with delicious beverages.
We look forward to every single event.
Known in Europe
You can find ZubarDubar in Mallorca, Denmark, and Germany.
Our experience in bar catering comes from various festive experiences where the number of guests and occasions has varied.
With know-how from all over Europe, we are ready to take your event to a new level.
Choose between a black or white bar
You always get a bar in a simple design – either in black or white. Is there a color you prefer that will fit better in the decor? Please let us know when you book!
Indicative prices for champagne bar
Below is our indicative prices for renting a complete champagne bar. You are always welcome to contact us for a tailored offer.

* Minimum amount: 9.995,- incl. VAT.
What do our customers think?

Læs mere om, hvad vores kunder synes om os her.
"Jeg har faktisk en oplevelse, som startede ret skidt, men endte super godt! Derfor de 5 stjerner. Jeg havde bestilt..."
"At have en bartender fra ZubarDubar til at lave drinks til min 40 års fødselsdag, gav lige festen et strejf af luksus. ..."
"ZubarDubar satte gang i vores personalefest. Der var masser af gode drinks både med og uden alkohol. Et godt koncept og ..."
"Trods vi var ude i rigtig dårlig tid, løste Zubardubar opgaven til UG og leverede et fantastisk arrangement. Søde bartender ..."
Hire us all over Denmark!